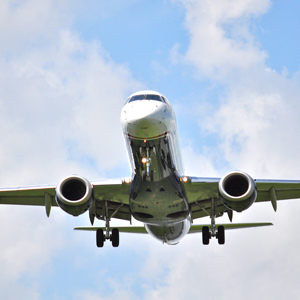 Puerto Vallarta Airport is very well-connected airport to major travel hubs in North America and in Mexico. This is especially thanks to having a high number of airlines that travel to Puerto Vallarta.  
Over 2 million foreign visitors fly into Puerto Vallarta airport each year with another half-million visitors flying from domestic hubs like Mexico City or Guadalajara.
International Airlines
International airlines serve some of the busiest travel hubs in North America, including 14 non-stop direct flights from Canada and 18 direct non-stop flights in the United States.  In addition, Arkefly has recently added direct flights from Europe through Amsterdam. 
WestJet offers year-round direct, non-stop flights from Calgary, Edmonton, Toronto and Vancouver to Puerto Vallarta Airport.  Air Canada, CanJet, Sunwing, Enerjet, Thomas Cook (Jazz Air), WestJet and Air Transat add a whole host of seasonal non-stop direct flights from Canada to Puerto Vallarta, adding service to cities like Abbotsford, Calgary, Comox, Edmonton, Kelowna, Montreal, Ottawa Prince George, Regina, Saskatoon, Toronto, Vancouver, Victoria and Winnipeg.  
From the United States, Alaska Airlines flies direct non-stop flights to Puerto Vallarta from Los Angeles, San Francisco and Seattle, American Airlines flies from Dallas-Fort Worth, Delta Airlines from Salt Lake City, Atlanta, and New York, Frontier Airlines features year-round flights from Chicago and Denver, United Airlines from Chicago, Denver, Houston, Los Angeles and Newark, U.S. Airways from Phoenix, and Virgin America from San Francisco. 
Seasonal flights are added each year from San Diego (Alaska), Chicago (American), Detroit (Delta), Los Angeles (Delta), Minneapolis-St. Paul (Delta and Sun Country), Kansas City (Frontier), St. Louis (Frontier), and San Francisco (United).
Domestic Airlines
For travelling within Mexico, the airport in Puerto Vallarta serves as a great transfer between Mexico's busiest airports and travel destinations. Aeromexico is the largest airline in Mexico, covering 40% of the domestic flights and 80% of the international flights out of Mexico. This airline is available at the Puerto Vallarta Airport and it serves Mexico City, Mexico's busiest travel destination, and other major cities like Guadalajara, Monterrey, and Ciudad Juarez.   AeroCalafia flies commuter flights to Mazatlan, Cabo San Lucas and Culiacan from Puerto Vallarta.  The other domestic airlines are low-cost airlines, such as Voalris, Interjet, and VivaAerobus (owned by Ryanair) and serve destinations like Ciudad Juarez, Tijuana, Monterrey and Mexico City
Airfare Booking Information
The major airlines are usually found on airfare websites like Expedia or Travelocity, while many of the smaller airlines don't work with those large websites and you have to book directly with them either through their own website or on the phone.   Some really nice fares can be found sometimes on Hotwire or Priceline, but make sure you read all the fine print because those fares are often non-refundable.  Many great deals are found on vacation package sites like CheapCaribbean or Funjet as well, especially last-minute deals.  
All of the above is subject to change without notice, so check with your airline.  Make sure to review each airline's specific requirements for baggage allowance, accompanying pets, or any other rules that may impact your travel to and from Puerto Vallarta.